Aspedia Wins Optus Most Innovative Australian IT Company 2011

Aspedia was nominated in the Optus IT Challenge for innovation late last year. Being one of hundreds of nominees from Small Medium Business (SMB) to Enterprise, the initial stage of the competition involved a peoples choice competition on the dedicated event website. With support from many of our clients and partners, Aspedia placed a respectable third for this stage.
A panel of four judges from across the IT industry selected nine finalists from the hundreds of nominations for the second part of the competition. This was based on submissions received which detailed how each company had demonstrated innovation and leadership in the industry. The Aspedia submission was based on our recent 1300HEALTH project which incolved a complex and customised ecommerce system with VoIP integration. We are very proud of the end solution that has been created for the client, and the judges of the Optus Challenge for IT Innovation also agreed, as we reached the final nine.
Part of the finals involved a sporting challenge against Alicia Molik, Chris Judd and Stirling Mortlock at Visy Stadium in Melbourne. This was broadcasted on Channel 9's Today Show. Two of our staff returned serves from Alicia, dodged tackles from Stirling and caught marks from Chris Judd. Whilst a valiant effort was displayed, it appears that our sporting skills did not rival our IT skills, as we placed a respectable fourth.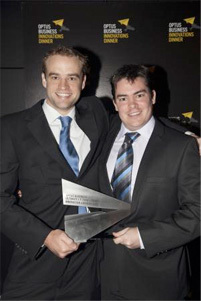 It was about now that we realised that the Aspedia tennis pro circuit was not going to happen any time soon, nor would we be taking down the Carlton AFL team in any hurry, so we headed to Docklands for the inaugural Optus Business IT Innovation Awards function. Aspedia was up against seven other finalists in the SMB category from across Australia, and the quality, and diversity of entrants, was astounding. The results were announced, and Aspedia, 13CABS and Fareshare were named the winners of the most innovative IT companies in Australia for SMB. Much thanks goes to Optus Business, 1300HEALTH for partnering with Aspedia with their industry leading solution, and all of our clients and partners, for their support.
We look forward to continuing to sit at the cutting edge of technology in Australia and hope this is just the first of many more achievements in 2011! Go Team Aspedia!
Learn more about our Member Evolution Membership Management Software Solution.