The Australian College of Midwives New Membership Website is Live

Congratulations to The Australian College of Midwives (ACM) on launching their new membership management software solution. ACM is the national not-for-profit body for the Midwifery profession that serves as the peak professional body for midwives in Australia. They are committed in providing a unified voice for the midwifery profession, support midwives to reach their full potential and set professional practice and education standards.
ACM Requirements
The Australian College of Midwives wanted to streamline their business processes with an intuitive solution. Continuing professional development is a big part education for their members and ACM needed a solution that would automate CDP point allocation, where members could easily view their cpd diary from within their member portal. Individual practical assessments need to be automated, so members could sign up to a specific program as well as a process to accredit businesses and keep track of that accreditation process. As well they wanted to speed up their report processing to enable the staff to get access to data more quickly.
ME Membership Software
Many of ACM's needs were already included and are standard within the membership management system such news, events and member resources as well as CDP point allocation to the members' CPD diary. A few additional features were created such as the individual practical assessment component, business accreditation and business units. Being able to have the in-house resources to add features likes these is a major advantage, and allows the association to deliver the services they need to their members.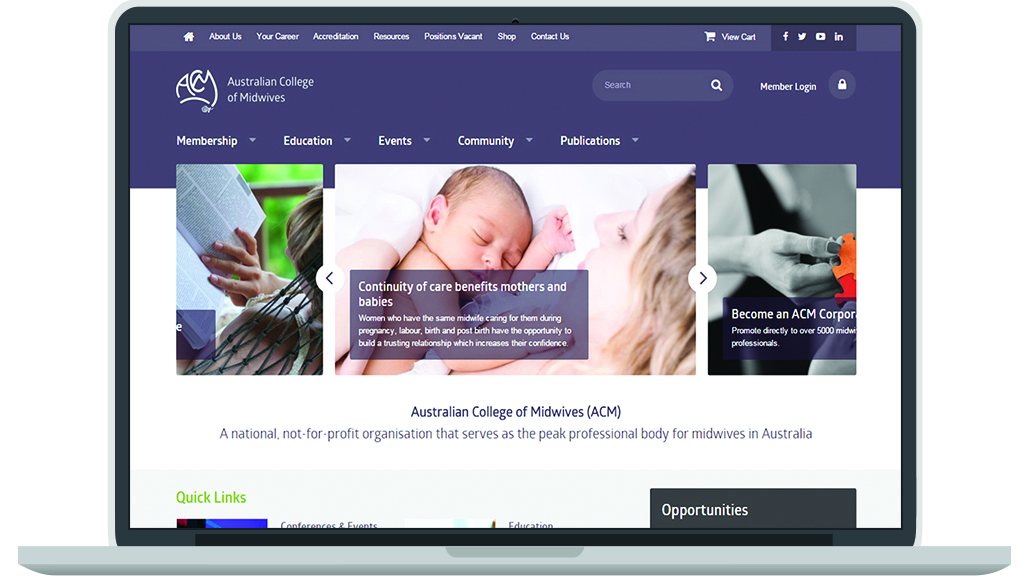 The Australia College of midwives has our latest version of the ME Conference system. The conference module has been carefully crafted for the specific use of associations. The conference system allows staff or volunteers to easily create and configure conferences while monitoring and managing attendees, sessions, speakers, sponsors, accommodation, transfers and much more.
How to Know When it's Time to Upgrade your Association Membership Software